---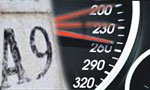 The Police today requested drivers not to speed when driving on the A-9 to and from Jaffna, and especially between Mankulam to Kilinochchi, because of the high death rates reported from road accidents due to speeding.
Police Spokesman Ajith Rohana said there had been over 30 deaths due to road accidents on the A9 between Mankulam to Kilinochchi this year.
"Drivers tend to speed in this particular area because the road is straight. Two women were killed on Wednesday when a vehicle skidded off the road. Many people have also been injured in accidents," he said at a media briefing.
He asked drivers not to speed, and to pay more attention while driving on the straight road. "There are road barriers and there are also elephant corridors. People need to pay attention and to be more vigilant when driving," he said. (Lahiru Pothmulla and Sanath Desmond)