---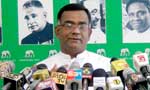 The government should not sign an MoU with the foreign companies for the supply of oil at current price as crude oil prices would tend to go down by next year, UNP General Secretary Tissa Attanayake said.

"International economic experts have forecasted that a barrel of crude oil could be reduced to 50-60 dollars by next year. But the government is going to sign an agreement with Emirates National Oil Company and Petro China in Singapore to purchase fuel at the current price for the next one-and-a- half years.

"The Petro China Singapore Company had been black listed after supplying substandard fuel earlier, Mr. Attanayake said.

He said only the contractors and agents would be benefited from this agreement because the benefit of impending crude oil price reduction would not be passed down to the people.
Mr. Attanayake said the government had a duty not to reach at such an agreement and urged it not to do so.