---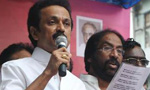 India's DMK party on Friday urged Chief Minister O. Panneerselvam to convene a session of the Tamil Nadu Assembly to discuss important issues, including the death sentence awarded to five fishermen in Sri Lanka.
In a statement here, he said as Tamil Nadu was witnessing one crisis after another, there was a need to discuss these issues in the Assembly.
DMK treasurer and the party's Legislature party leader M.K. Stalin said that though Mr. Panneerselvam had assumed office as the Chief Minister of Tamil Nadu, the session of the House, normally held in October, has not yet been convened.


"All political parties have urged the State Government and the Centre to prevail upon the Sri Lankan Government to cancel the death sentence awarded to the five fishermen on false charges. The Centre has already agreed to file an appeal. (The Hindu)