---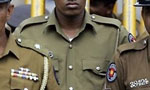 Police said disciplinary action would be taken against the Kotadeniyawa OIC, an Inspector and four other officers for detaining two suspects, in connection with the investigation conducted into the Seya Sandewmi murder, in an illegal manner.
Legal action would also be taken against two Sub Inspectors, a Sergeant and a Constable of the Kotadeniya Police.
The 17-year-old Suranjan Pradeep Senevirathna and 33-year-old Kelum Athanayaka who were arrested on September 11 on suspicions of Seya Sandewmi's murder had lodged a complaint with the IGP alleging they were harassed and assaulted while in police custody.
IGP N. K Illangakoon directed a senior DIG to look into the complaint. Police said investigations revealed that the two suspects were held for two days illegally and that belongings of the suspects taken into custody have been misplaced.
Police said a charge sheet will be filed against the officers.
(Darshana Sanjeewa)