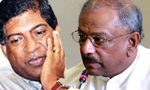 Mahajana Eksath Peramuna (MEP) leader Dinesh Gunawardane said yesterday Finance Minister Ravi Karunanayake should apologise to the country for making a false statement about a bank account maintained by former Defence Secretary Gotabaya Rajapaksa
Mr. Gunawardane told Parliament that the media had been manipulated under the new Government to spread falsehoods against the leaders of the previous Government.
He said there was a sinister media campaign about a coup hatched at Temple Trees on the day after elections.
"It is total fiction. I know the Prime Minister is aware of what happened. Therefore, I am asking the Government not to load people with false news. It does not help the good governance that you proposed," Mr. Gunawardene said.
Referring to the news item about a floating armoury in the sea off Galle, he said it was part of maritime security arrangements to protect the transnational ships and other naval activities to prevent sea piracy.
"This security arrangement has been recognised by the United Nation. Yet, the Government twists news stories. They are playing with the media. I kindly request you to allow the media to engage in impartial and accurate reporting rather than loading them with falsehoods," he said.
Mr. Gunawardene said nobody could forget the fact that it was former President Mahinda Rajapaksa who defeated separatist terrorism in this country.
"We all know Defence Secretary Gotabaya Rajapaksa played a pivotal role in this effort. Today, there are accusations against him about running a bank account with a balance of eight billion rupees. This news has been vehemently denied even by the new Defence Secretary," he said.
(Kelum Bandara and Yohan Perera)