---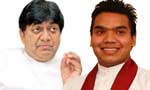 State Minister for Highways, Dilan Perera said today that MP Namal Rajapaksa should remember that the Sri Lanka Freedom Party (SLFP) was no longer his father Mahinda Rajapaksa's property and not to make statements about the party as he wished.
The state minister made these remarks in response to a question by a journalist during a press conference in Colombo about Mr. Rajapaksa's statement published in a newspaper where he had said those who really loved the SLFP remained in the party while others joined the coalition government.
"Namal Rajapaksa has forgotten that the SLFP does not belong to his father Mahinda Rajapaksa. He must not say or do as he did when his father was president. It was the SLFP Central Committee which permitted SLFP members to join the coalition government. We feel sorry about his statement because of his age. Mr. Rajapaksa has a bright political future because he has a good family background. However, he should remember that he will not have a political future within the SLFP if he tries to exceed the authority of the SLFP Central Committee," the state minister said.
(Piyumi Fonseka)
Video by Amantha