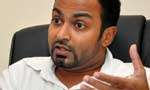 The Colombo High Court today released the passport of Field Marshal Sarath Fonseka's ex son –in –law Dhanuna Thilakaratne, who was earlier acquitted from charges of earning profits from arms procurement deals of the Army.
The Court made the decision following a motion filed before court by Mr. Thilakaratne's lawyer to release his client's of bank accounts and passport, since the case was terminated and he was acquitted.
The Colombo High Court Judge Devika De Livera Tennakoon acquitted Dhanuna Thilakartne from charges of earning profits from arms procurement deals of the Army on October 15.
Earlier, the Attorney General had indicted former Army Commander Sarath Fonseka and Dhanuna Thilakaratne along with Hi Corp Director Wellington De Hoedt under the Public Properties Act allegedly for cheating US$ 299,061 from four tenders, by purchasing military hardware, stepping beyond the tender procedure and tendering false tender documents on behalf of an Australian based entity called British Borneo Defense in 2007-2008.
Mr. Fonseka who was accused of facilitating the 'Hi-Corp fraud' as the Army Commander and as the head of the Army tender boards was acquitted On March 15, 2012 from the case on the basis that the accused Fonseka had been already found guilty before the Court Martial for similar charges in connection with the Hi-Corp case.
However, De Hhoedt was sentenced to five years rigorous imprisonment on October 29, 2010 following his pleading guilty over the charges.
(Shehan Chamika Silva)