---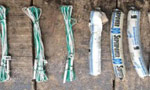 Nearly 7,500 detonators today when two youths were searched after their motorcycle was stopped at the Pallimunai checkpoint the on the Thalaimannar – Mannar Road, Mannar Police said.

This detection was made by Mannar Anti-Narcotic Unit personnel when they were checking the vehicles at the Pallimunai barrier after receiving information about the transport of narcotics.

The suspects aged 22 and 25 years are residents of Thalaimannar and Mannar.

One of the suspects had brought these detonators from India in a boat. There is a good demand for their detonators from Mannar fishermen engaged in fishing using illegal fishing gears
The detonators have been manufactured in Tamil Nadu and transported on boats to Sri Lanka. (Augustine Fernando)