---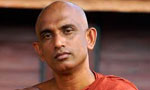 The Ven. Athuraliye Rathana Thera, the leader of Parliamentary group of the Jathika Hela Urumaya told Daily Mirror online that the party had taken a unanimous decision "for the benefit of the country".
Speaking to Daily Mirror upon conclusion of a meeting that lasted from 4.30 pm to around 9.00 pm, the Thera said that the decision was taken with the consensus of all the Central Committee members and District leaders. The Thera also said the decision would be made public tomorrow.
The JHU, in its demands, had urged the government to prune some powers of the executive president, to uphold the independence of the judiciary and to strengthen anti-corruption laws.