---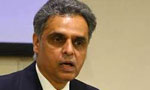 India said on Thursday that they were in touch with Sri Lanka regarding the death penalty to five India fishermen and maintained that they were innocent.
Official Spokesperson, Ministry of External Affairs, Syed Akbaruddin posted on the micro-blogging site Twitter: "Following judgement against five fishermen by lower court in Sri Lanka, India once again takes up matter of their innocence with Sri Lanka."
He also wrote: "India-Sri Lanka in constant touch in aftermath of judgement against five Indian fishermen by lower court in Sri Lanka."
Five Indian fishermen were given death penalty by a Sri Lankan court today for alleged drug trafficking, prompting a response from India that it will appeal to a higher court against the judgement.
The five fishermen, all hailing from Tamil Nadu, were apprehended in 2011 by the Sri Lankan Navy on charges of smuggling of drugs, official sources said.
The five Indians are among a group of eight people sentenced to death by the high court in Colombo. They had been arrested on a boat in the seas off northern Jaffna's Delft islet.
The High Court judge Preethi Padman Surasena passed judgement on the five Indians and three Sri Lankans for involvement in heroin trafficking between India and Sri Lanka in 2011.
However, the Indian government, which has been pursuing their case for the last four years, maintains that it has done due diligence and found them to be innocent.
The issue of fishermen is a very emotive matter for both Sri Lanka and India, where Tamil Nadu-based parties including AIADMK and DMK have been regularly pressing the Centre to take up the matter with the Lankan authorities seriously and have often resented high-profile visits from the island nation. (Source: zeenews)