---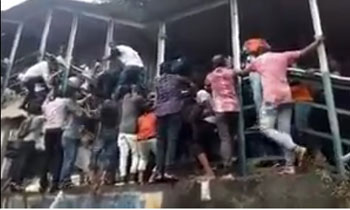 At least 15 persons were killed and more than 20 people injured in a stampede at Elphinstone railway station's foot over bridge.
The BMC officials from disaster management confirmed that 15 people have died in the stampede
The incident occurred on the foot over bridge which is known to be crowded most of the times.
Officials from BMC disaster management have said that the incident occurred around 10.46am and 20-25 people are said to be injured in the incident. 15 persons have died in the incident.
According to the TV reports, heavy rains triggered the chaos which resulted in a stampede at the Mumbai local railway station. (Times of India)