---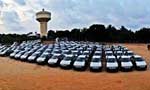 Sri Lanka Customs said today they had decided to release motor vehicles imported by individuals for personal use on a Letter of Credit opened before the effective date of the 2016 Budget.
Customs media spokesman Leslie Gamini said a directive on this matter had been sent by the Finance Ministry to Customs Director General Chulananda Perera on yesterday evening.
He said nearly 3,000 vehicles were being detained at the Hambantota Port awaiting clearance and that according to the Finance Ministry statement the relief had been provided to the individual importers.
"The importer should fulfil five conditions -- the motor vehicles should have been imported and registered on or before March 31 in the name of the importer under whose name the LC was opened and shall not be transferred for a period of five years from the date of registration without prior approval from the General Treasury," the statement states.
(Chaturanga Pradeep)