---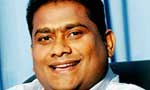 The request of former Deputy Minister Premalal Jayasekara , who is now in remand custody, to cast his vote at Monday's general election was rejected by Pelmadulla Magistrate Dinesh Lakmal Perera today.
The former minister and five others have been remanded in connection with the alleged killing of UNP supporter Shantha Dodangoda during the last presidential election. When the six suspects were produced in court last morning the lawyers appearing for the former deputy minister told court that he was a candidate contesting the general election and requested permission for him to cast his vote at the respective polling station. They pointed out that the law would not restrict his right to vote.
However the lawyers who watched the interests of the aggrieved party objected. They told court that the suspect was no longer a parliamentarian and that he was an ordinary individual who was not entitled to relief under special circumstance as sought by him.
The magistrate who upheld the objection further remanded the six suspects.
(Lasantha Niroshan Perera)