---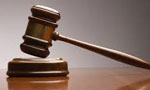 The Colombo High Court today dismissed the Habeas Corpus application filed by Dinithi Aloka's parents against Minister Rajitha Senaratne and his family members after the parents told Court they wished to withdraw the application.
The parents had earlier complained that Minister Senaratne's son had abducted their daughter and was detaining her in their home.
However, when the petition was came up before High Court Judge Lalith Jayasuriya, the petitioner's counsel informed Court that his client had decided to withdraw the Habaes Corpus application in the High Court accusing the minister's second son, Eksath Senaratne of abducting their daughter on February 14, 2014 and detaining her in the minister's home.
They said the NCPA had intervened at the time and got the child back but they claimed that she was again abducted by the minister's son on April 6 of the same year.
(Lakmal Sooriyagoda)