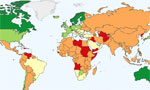 Sri Lanka and China were ranked at 83 simultaneously out of 168 countries in the World Corruption Perception Index compiled by the Germany based Transparency International (TI) released yesterday, January 27.
Sri Lanka had scored 37 points out of 100, which is one point less than what it scored in 2014. Neighbouring India was ranked at 76, while Pakistan is at 117, Bhutan at 27, Nepal at 130 and Bangladesh at 139.
The report said that countries like Sri Lanka, Guatemala and Ghana had worked hard to drive out the corrupt.
However, it also said leaders in India and Sri Lanka were falling short of their bold promises made to end corruption.
"In India and Sri Lanka leaders are falling short of their bold promises, while Governments in Bangladesh and Cambodia are exacerbating corruption by clamping down on civil society," the report said.
"In Afghanistan and Pakistan the failure to tackle corruption is feeding ongoing vicious conflicts, while China's prosecutorial approach is not bringing sustainable remedy to the menace. This inability to tackle root causes holds true across the region, for example, Australia's dwindling score in recent years," it said.
Denmark ranked as the least corrupt country following Finland, Sweden, New Zealand, Netherlands and Norway respectively.
Somalia was ranked the most corrupt followed by North Korea, Afghanistan, Sudan and South Sudan.