---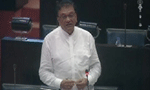 While admitting in Parliament today that 45 people were appointed as consultants of the Southern Transport Development Project of the Road Development Authority on a monthly payment of Rs.65,000 each, Higher Education Minister Lakshman Kiriella said the government should look after those who ensured a thumping electoral victory from the Kandy district at the two elections.
The Minister who is also the Leader of the House said this in response to a question asked by JVP MP Nalinda Jayatissa.
In a supplementary question based on the minister's response, he said he had received a list of 56 such appointments made by the minister including a Buddhist monk named Ven. Wattapolla Rahula Thera.
"I don't know what a Buddhist monk has to do with road development projects," Dr. Jayatissa said. Detailing the qualifications of such appointees, he said some had only passed the GCE Ordinary Level Examination.
"Some have cited their position as the opposition leaders of various local bodies such as the highest qualification to apply for this post," he said and added that the appointment of political henchmen did not gel with the concept of good governance.
The minister responded saying the government won the Kandy district with a majority of 81,000 votes at the presidential election and with a majority of 131,000 votes at the parliamentary election.
"As a result, we should care for those who ensured such a huge victory," he said and added that 250 such appointments had been made during the previous regime, but none had questioned those appointments.(Kelum Bandara and Yohan Perera)