---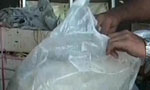 A Colombo-bound passenger trying to smuggle in over three kilograms of heroin from Pakistan was arrested at the Karachi airport by the Anti-Narcotics Force yesterday.
As per details, the as-yet unidentified passenger was scheduled to fly out on an Emirates flight bound for Colombo via Dubai.
However, officials managed to detect the contraband during pre-boarding screening and a total of 3.055 kg of heroin was found concealed in the two bags the passenger was carrying.
With the suspect in custody, a case had been registered and further interrogations to extract information about any possible accomplices were underway.
(The International News)