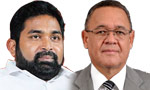 The South African government would provide high quality coal at concessionary rates to Sri Lanka in the future, South African High Commissioner Geoff Q.M. Doidge has said.
He said this while addressing a special meeting with the Power and Renewable Energy Minister Ranjith Siyambalapitiya at the Power and Energy Ministry recently.
"Sri Lanka has successfully focused on low-cost renewable energy sources as permanent solutions. Our government also hopes to focus on renewable energy sources and to get help from Sri Lanka," the High Commissioner said.
He said that South Africa also would provide technical assistance to Sri Lanka's renewable energy development.
Minister Siyambalapitiya said that the electricity supply in Sri Lanka would increase to 100 percent by early 2016, the Minister said at the meeting
He said that Sri Lanka should switch to renewable energy in place of the traditional sources to meet the increasing demand of electricity.
He said the present government had also focused on power conservation to meet the challenges of the global warming and climatic change.
He stressed that the government would boost the bi-lateral relations between Sri Lanka and South Africa, and would cooperate with the South African government to develop and expand the alternative sources of power to meet the power and energy demands.
(Chaturanga Pradeep)