---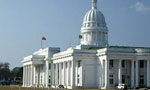 Inspections are being carried out every day at food outlets at the Arcade Independence Square, Race Course and the Floating Market to ensure that hygienic standards are maintained, the Colombo Municipal Council (CMC) said.
Speaking about recent inspections carried out at the Arcade, CMC Chief Medical Officer Dr. Wijayamuni said that the general conditions were good but that there were flies in some of these outlets. He said the particular outlets were advised to use air curtains and fly killers.
Commenting on a rumour that a worm was found in food served at one of the food outlets, Wijayamuni said that no complaint of that nature was made to the CMC.
"So many people asked us about it; however we have not received any complaint from a consumer. If such occasions are encountered, the public should contact the Public Health Department of the CMC and we will take necessary action," he said. (Rumana Razick)