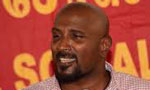 The Frontline Socialist Party (FSP) today said that its leader Kumar Gunaratnam will not leave the country until the authorities declare their decision regarding the citizenship application he submitted earlier this month.
FSP Politburo member Pubudu Jagoda told the Daily Mirror although the Supreme Court suspension on the deportation order against Gunaratnam expired on Wednesday (18), the FSP leader would not be leaving the country until a decision was issued regarding the citizenship application he submitted to the Immigration and Emigration Department on February 5.
"Kumar's deportation issue is not a legal dilemma but a political issue - it cannot be solved within legal grounds," Pubudu said.
He pointed to the Fundamental Rights petition filed by Gunaratnam, which was rejected by the Supreme Courts yesterday and said it was not heard mainly due to the Court not being entitled to decide on matters pertaining to citizenship or the extension of visa.
"The sole authority lies with the Minister in charge of the subject - in this case Public Order Minister John Amaratunga and the cabinet," he said.
"If his application is rejected, that again would be another issue because when the current Central Bank Governor Arjuna Mahendran arrived in the country to assume duties in his post, he had been granted citizenship within a matter of a day. So why adopt double standards?" Jagoda questioned.
However, Immigration and Emigration Controller Nihal Ranasinghe had said that Gunaratnam would be deported from the country by today.
Jagoda said a debate was due to be taken up in parliament today concerning Gunaratnam's deportation issue.
(Lakna Paranamanna)