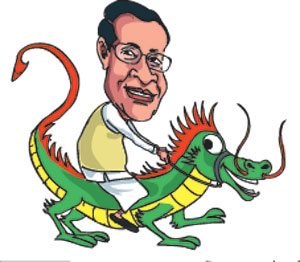 Ahead of President Maithripala Sirisena's visit to China, a top Chinese official said on Monday that the leaders of the two countries would seek to further consolidate bilateral relations.
Addressing a group of journalists from Sri Lanka, Huang Xilian, the Deputy Director General of Asian Department- Ministry of Foreign Affairs, said on Monday that the agenda of the visit was being prepared at the moment.
The visit is expected to take place during the end of this month. He said China and Sri Lanka were all weather partners, and the new government of Sri Lanka has also asserted its policy towards China in this regard.
He noted China elevated its relationship with Sri Lanka to the level of Strategic Partnership Cooperation during the state visit of Chinese President Xi Jinping last year.
"Chinese people saw the kind of welcome accorded by the Sri Lankan people to the Chinese President. When the new government was elected in Sri Lanka, we immediately got in touch with them. We intend to further our relations," he said.
He said, "We treat Sri Lanka as equal in our friendly relations and cooperation".
Asked about the suspension of the Port City project, he said China expected that Sri Lanka would safeguard the legitimate rights of the Chinese company involved in this case.
"The new government has taken a decision to review the project. We respect the decision. We need to abide by the laws and regulations. We think the new government will handle it," he said.
(Kelum Bandara in Beijing)