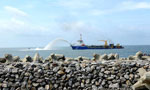 The Chinese construction company behind the controversial $ 1.34 billion Colombo port city project - currently being reviewed by the new Sri Lankan government - has said it is "sure" about being given the necessary approvals for the ambitious land reclamation initiative.
In its first comments following the controversy surrounding the project, the China Communications Construction Company said on Wednesday it had "nothing to worry" about the future of the deal, although on Friday the Sri Lankan Prime Minister, Ranil Wickremesinghe, told Parliament no decision had yet been taken.
The project would go ahead "for sure", Zhang Baozhong, the company's vice president, told reporters in Quanzhou, in southern Fujian province, speaking on the sidelines of a major Chinese government meeting to push a "Maritime Silk Road" initiative aimed at deepening ties with countries in the region, including Sri Lanka.
"It is already approved," Zhang said, when asked about questions raised in Colombo about the environmental impact of the reclamation project, which emerged at the centre of attention during Sri Lanka's recent elections with Wickremesinghe pledging to scrap the agreement during campaigning.
Only on Friday, Wickremesinghe told Parliament that no decision had been taken on approving the project, responding to doubts raised after his own Health Minister Rajitha Senaratne had said last week that Colombo would proceed with the agreement. Senaratne's comments had embarrassed Wickremesinghe, suggesting a rapid u-turn from his campaign statements.
While Wickremesinghe told Parliament a separate committee would look into the project and its impact, the new Sri Lankan government has, however, also appeared to indicate to the Chinese firm that it does not need to be too concerned about the future of the initiative.
Zhang, who was invited by the Chinese government to speak at the Maritime Silk Road forum, told the gathering that while there had been "some criticism and doubts" about the project, it was "aligned with development goals in Sri Lanka".
He rejected suggestions that China's deepening economic ties with Sri Lanka were only a result of Beijing's reportedly close relations with ousted former President Mahinda Rajapaksa. "We had very good relations with [new] President [Maithripala] Sirisena," he said. "There are some people doubting if there would be a negative influence on the project because of political change in Sri Lanka."
That would not be the case, he said, with the Sri Lankan government declaring that "the project is in line with its development goals and is law-abiding". "They will allow our company to fully promote the project," he said.
Zhang said the project would extend over 276 hectares, including a 5.2 million square metre building area, and give employment to 83,000 locals. His company would follow strict standards wherever they operated, he said. "We follow our own corporate culture but try to integrate into local society. We focus a lot on environmental protection. For marine projects we have strict standards about maintaining purity of the water body. We have 24-hour sentinel stations. And if there is any influence at all on water quality, we will change our implementation plan."
(India Today)