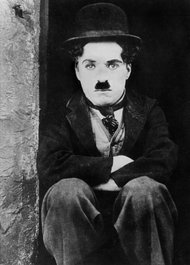 PARIS –
Charlie Chaplin's 1929 honorary Oscar statuette was stolen in Paris late last month from the offices of the Association Chaplin, according to the organization.
The Association Chaplin is a Swiss organization, with Paris offices, that aims to protect the name, image and rights linked to Charlie Chaplin's work. Its director, Kate Guyonvarch, could not provide additional details on the theft, but said via email, "We and the Chaplin family are extremely shaken by this loss, and trust that the police will get to the bottom of the break-in very soon."
The French newspaper Le Parisien, quoting an anonymous police source, reported that several pens that had belonged to the British star were also stolen and that each was worth 80,000 euros. The same source told Le Parisien that the burglary was the work of "perfectly informed" individuals who had specifically targeted the Chaplin memorabilia.
Some pre-1950 statuettes have fetched hundreds of thousands of dollars in auctions. (These days, a winner wishing to sell an Oscar must offer the Academy the opportunity to buy it back for $1. That rule does not apply to older statuettes.)
Mr. Chaplin, who died in 1977 at the age of 88, received the honorary Oscar during the very first Academy Awards in 1929 for "acting, writing, directing and producing 'The Circus,'" which featured Mr. Chaplin's iconic Tramp, the disheveled and bumbling character he portrayed in many of his silent films.
Mr. Chaplin also received an honorary Oscar in 1972, "for the incalculable effect he had in making motion pictures the art form of this century," but was awarded only one regular Academy Award throughout his whole career, for the score of "Limelight," in 1973.
A representative for the Association Chaplin said the organization had been planning to lend the 1929 award to a museum dedicated to Charlie Chaplin that is opening next year in Switzerland, where the actor spent the last 25 years of his life.
(nytimes)