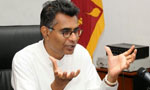 Power and Energy Minister Patali Champika Ranawaka today vowed to publish a blacklist exposing all the VIPs and higher-ups who have allegedly amassed billions of rupees and dollars of ill-gotten lucre and other assets during the tenure of the Mahinda Rajapaksa regime.
"I have credible information about their bank accounts, the amount of filthy lucre and their sources. I expect to expose all of them with their names shortly," the minister said adding that taking legal action against them would not be a difficult task because the list would contain the necessary hard evidence.
The minister said those who were unable to control their jealousy and malice against the Maithripala Sirisena Government are now shedding crocodile tears saying they have been threatened and their family members have been warned to leave the country and that no action was being taken by the Government to investigate their complaints.
"They are well aware that they have no future in politics and cannot enter Parliament at the upcoming general election. That is why they are conspiring to bring back former President Mahinda Rajapaksa who was defeated and rejected by the people. They are attempting to fool the voters to win their sympathy and ride to Parliament on Rajapaksa's back. These surreptitious attempts will end up as day dreams," the minister said.
Commenting on the corruption and mismanagement under the Rajapaksa regime at the Lanka Electricity Company Ltd. (LECO), the minister said when institutions of law and justice and law like the judiciary and the Attorney General's Department work hand in glove with protect corrupt politicians and officials, the prevention of corruption was extremely difficult.
"There was a time in the recent past that reminded us of the pithy Sinhala saying, 'Naduth Hamuduruwange, Baduth Hamuduruwange' which was often carried out at vital government establishments like LECO. Many of those who blatantly exploited major government institutions like LECO, CPC and the CEB by defrauding billions of rupees and dollars have fled the country after the election defeat. Some of them are still here. But we are determined to expose them and take legal action against them wherever they live," he said.
"The corruption at LECO helped accelerate the then President Mahinda Rajapaksa's downfall. The fraudulent acts at LECO compelled us to rise against the Rajapaksa regime on behalf of the suffering people who had been denied the benefits of low prices of fuel in the global market. Our only solace during this difficult time is our ability to provide electricity to 95% of the houses in the country without interruption. When I raised my voice against those unfair and corrupt acts I lost my portfolio," the minister said.
(Sandun A Jayasekera)