---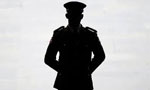 Six police personnel attached to the Suriyawewa police were arrested last morning and later interdicted in connection with the death of a suspect who was in police custody.
The victim Liyanarachchilage Samantha was said to have been arrested on February 19 on charges of possessing illicit liquor. He died on February 22 while undergoing treatment at the HambantotaGeneral Hospital.
Among those interdicted were Sergeant 54471PriiyanthaKulatunga, Constables 35079 ShamindaPrabhath, 38261 J.Chandana, 40720 Sunil Shantha, 39716 K.SampathPeiris, and 61985 SisiraPushpakumara.