---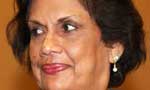 Former President Chandrika Kumaratunga will henceforth function as the SLFP Chief Organiser of the Attanagalle electorate, Ms. Kumaratunga's Chief of Staff Justin Navaratne said.
Mr. Navaratne, who is also a former zonal educational director, made these remarks while addressing a function at Sanghabodhi Vidyalaya in Nittambuwa.
The post of Attanagalle SLFP Chief Organiser had remained vacant during the recent past.
(S. U. W. K. Jayawardane)