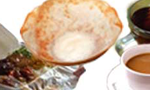 While increasing the price on hoppers, plain tea and varieties of items sold at canteens from today the national organiser of the Canteen Owners Association Asela Sampath said the association would challenge the Finance Minister Ravi Karunanaya to tell a place where one could buy food items at prices mention in the budget.
"As an association we are challenging the Finance Minister to find and tell one single place where we can buy goods at a lower price as declared in the recent budget. If he would do so we will dissolve our association from the following day," Sampath said.
He said that prices of hoppers, plain tea and many other items sold at canteens were increased from today.
The association said price controlled created black market, which it called was a form of terrorism.
According to the association a price of a cup of plain tea is increased by Rs. 5 while a cup of milk tea is increased from Rs. 35 to 40
The price of hoppers is increased by Rs. 5. The price of a lunch packet (Rice and curry) is increased by Rs.10.
"We will close all canteens in the Colombo district for a day before the Christmas Day in protest and to draw government's attention over the black market terrorism.
"Nothing had been allocated for the benefit of canteens owners in the budget 2016," Sampath said.
"If the government is willing to take on the black market our association would grant the relief to consumers again," Sampath said.
"Although we increase prices, I request all the canteen owners to provide quality and clean food to their customers," he said.
"We urge the Consumer Affairs Authority to introduce a district-wise price range to all product sold at canteens instead of an island wide blanket price regulation," he said.
(Chaturanga Pradeep)