---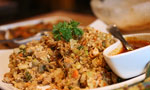 The canteen owners have announced that prices would be reduced from tomorrow. Accordingly the price of a packet of lunch, Kottu, would be reduced by Rs. 10 while a new price of cup of plain tea would be Rs. 10; a cup of milk tea would be reduced by Rs 5.
In addition, the price of hopper will be fixed as Rs. 10.
All Ceylon Canteen Owners Association Convener Asela Sampath said a mechanism would be put in place to decide on the prices of food sold in canteens.
He said the benefit of the reduction gas and the thirteen essential items would be passed down to the consumers.
(DS & YP)