---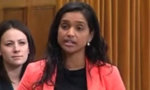 Canada's public safety minister Steven Blaney said Thursday he was "shocked and appalled" after a New Democratic Party MP rose in the House of Commons to commemorate Tamil Heroes Day, which honours fallen Tamil Tigers rebels.
According to the National Post, Steven Blaney has urged Rathika Sitsabaiesan, a Sri Lankan-born rookie MP, to apologize "to veterans and all Canadians" for her statement that called the day "an important event" and likened it to Remembrance Day.
Held each Nov. 27, Tamil Heroes Day was created by the Tamil Tigers to mark the date the first member of the armed separatist group was killed in combat. The rebel boss Velupillai Prabhakaran traditionally gave a defiant speech on that day.
"Tamil Heroes Day is dedicated to the glorification of the terrorist group Liberation Tigers of Tamil Eelam, known more commonly as the Tamil Tigers," said Mr. Blaney, pointing out the Tigers are on Canada's list of designated terrorist entities.
"I am shocked and appalled that an NDP member of Parliament would not only endorse the celebration of terrorists, but would also equate it to the solemn occasion of Remembrance Day where we honour our fallen Canadian heroes."
He called on Ms. Sitsabaiesan, the MP for Scarborough-Rouge River, "to stop shopping for votes from terrorist-linked groups, and to immediately apologize to veterans and all Canadians for these comments."
In an email Thursday, Ms. Sitsabaiesan said she was not supporting terrorism or encouraging violence.
"Rather, as the first Tamil MP elected, I join Tamil-Canadians and all across our country in mourning those who have died in wars at home or abroad, and in supporting those who work tirelessly for the cause of peace."
But photographs of a Heroes Day event held Thursday in Markham, Ont., and posted on the Facebook page of the Tamil Youth Organization-Canada, showed the Tamil Tigers' militaristic flag and visitors walking past a wall of portraits of men and women in rebel uniforms.
During their three-decade campaign for Tamil independence, the Tigers conducted hundreds of suicide bombings and assassinated moderate Tamil leaders as well as Rajiv Gandhi, the former Indian prime minister. They were crushed by Sri Lankan forces in 2009.