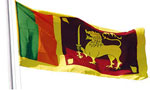 The Cabinet is reportedly divided over the opinion on the proposal to sing the National Anthem both in Sinhala and Tamil languages at the National Independence Day event this time, it is learnt.
A committee working on national reconciliation has proposed this to the Cabinet yesterday. However, a section of the Ministers was opposed to the idea. Therefore, a final decision was not taken.
The committee has made such a proposal in the hope that it would be a step forward in the direction of bringing about reconciliation among the ethnic groups. Currently, the National Anthem is sung in Tamil, mainly at events in the Tamil speaking areas.
After the ministers exchanged their views in this respect, President Maithripala Sirisena said he would decide on it after discussing it with Prime Minister Ranil Wickremesinghe.
He also asked the Ministers not to talk about it any further.
Foreign Affairs Minister Mangala Samaraweera and Health Minister Dr. Rajitha Senaratne are among those who stood for the National Anthem to be sung in both the languages.
During the previous rule, then National Languages and Social Integration Minister Vasudeva Nanayakkara proposed a bilingual national anthem to be worked out and it led to a controversy at that time, prompting the Public Administration Ministry to issue a circular how the National Anthem should be sung.
(Kelum Bandara)