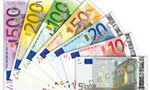 A 55-year-old Sri Lankan gem businessman was arrested at the Bandaranaike International Airport (BIA) when he was detected having in his possession Rs.6.1 million worth of foreign currency this morning, Customs media spokesman Leslie Gamini said.
He said the businessman was a resident of Galle and that the arrest was made at the Departure Lounge while awaiting a flight to Singapore.
Mr. Gamini said the foreign currency consisting of Euros 38530 valued at Rs.6,121,224.00 was hidden in the suspect's underwear.
After an inquiry by Customs officers headed by the Airport Customs Deputy Director Anura Walawage, the suspect was released but the foreign currency was confiscated and a fine of Rs.100,000 imposed.
The inquiry was carried out by Customs Superintendent S. Gnanadada, A.L.D.A. Gunawardhana, Deputy Superintendent A.A.D.L. Shanthapriya, Assistant Superintendent D.N.C. Abeynayake, A.K.R. Samanjith and D.M.U. Tharanga.
(Chaturanga Pradeep)