---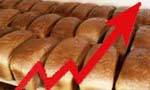 The price of a 450 g of loaf of bread will be increased by Re.1.00 with effect from midnight tomorrow, the All Ceylon Bakery Owners' Association Chairman N.K.Jayawardana said.
The decision had been taken increase the prices of all bakery products due to the increase of the Nation Building Tax (NBT) following the recent budget, he said.
"Some bakery owners had increased the bread price by Rs 5.00 to Rs. 10.00 without consulting the association," he said.
The new price of a 450 g loaf of bread should be Rs. 55.00, he said.
(Chaturanga Pradeep)