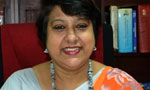 The Commission to Investigate Allegations of Bribery or Corruption has been handling over 3,000 cases since the Presidential Polls and over 90% of the assets cases were against the politicians and state officials of the previous regime.
Commission's Director General Dilrukshi Dias Wickramasinghe told the Daily Mirror yesterday that they are currently working on over 3,000 separate cases of corruption, unlawful acquisition of assets and solicitation of bribes.
Prior to her assuming of duties as the Director General there had been over 1,800 pending cases that were stagnating for months and after her posting the commission had received over 1,200 complaints against various individuals and state bodies, she said.
She also said over 70% of the cases were related to corruption and unlawful acquisition of assets and out of that over 90% were lodged against leading politicians and senior state officials of the previous regime.
The commission's expert investigation team supervised by experienced attorneys work day and night to complete the increasing number of complaints on a daily basis.
Wickramasinghe however had positive hopes for the appointment of a new Commissioner for the vacant post of the Commission following the implementation of the provisions of the 19th Amendment.
(Kurulu Koojana Kariyakarawana)