---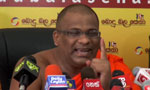 Bodu Bala Sena (BBS) today said they are going to field a national candidate if any other party does not provide a proper candidate in the coming presidential election. They said they will take a proper decision after the announcement of the presidential election.
BBS General Secretary Ven. Galagodaaththe Gnanasara Thera said they will field a national candidate who could bring along a Sinhala-Buddhist state and not a common candidate like other parties. He said if any other party presents a proper Sinhala-Buddhist candidate they are going to discuss their Sinhala-Buddhist policies with him or her.
He said they are going to discuss with other Sinhala-Buddhist political parties and if the BBS fields a national candidate in the presidential election all Sinhala-Buddhist political parties will come together as one political party.
He said the decision which was made by the Jahika Hela Urumaya (JHU) to resign from the ministerial positions is a good decision and now the JHU will be a free political party. Therefore he said the BBS can discuss their Sinhala- Buddhist policies with JHU. He alleged that the General Secretary of JHU Ven. Athuraliye Rathana Thera is destroying his own political party due to his policies and actions. He said Ven. Athuraliye Rathana Thera is not representing his party's policy and his decisions are inconsistent.
He alleged, the government and the opposition are getting support from the Tamil National Alliance (TNA) and the Sri Lanka Muslim Congress (SLMC). Further he said, according to them if they have reached agreements, why are the government and the opposition not revealing the agreements to the public. (Yoshita Perera)
WATCH