---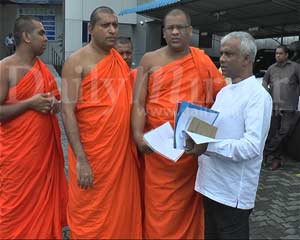 Bodu Bala Sena (BBS) today complained to the Human Rights Commission (HRC) regarding Government moves to amend the Criminal Justice Procedure Code and the Penal Code.
"We have named the Justice Ministry Secretary, Parliament Secretary and the Presidential Secretary as respondents," BBS General Secretary Ven. Galagodaatte Gnanasara Thera said.
"The government is attempting to amend these Codes while the people and government officials were focusing attention on the budget proposals. If amended the Acts will restrict the freedom of speech which had been granted through the 10th amendment to the Constitution," he said. "We are urging the leaders of the Yahapalana Government to check the brains of the people involved in amending Act. It is a myth to think that by amending the Act, the people's problems will be resolved."
The Thera said the amendments would only benefit elements who spread communal and religious hatred.
(Chaturanga Pradeep)