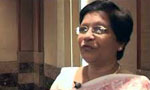 Justice Eva Wanasundara, one of the three-judges of the Supreme Court bench that is to hear the fundamental rights petition filed by former minister Basil Rajapaksa, seeking an interim order directing the Kaduwela Magistrate to release him from remand custody, declined to sit on the bench on personal grounds.
Justice Priyasath Dep was nominated to replace her.
This petition, which is to be heard in the Supreme Court tomorrow (27), before a three-judge Supreme Court bench comprising Chief Justice K. Sripavan, Justice Priyasath Dep and Justice Rohini Marasinghe.
The FR petition was earlier listed to be heard before Chief Justice K. Sripavan, Justice Eva Wanasundara and Justice Rohini Marasinghe.
Meanwhile, three other FR petitions filed by former economic development secretary Nihal Jayatilaka, former divineguma funds director general Kithsiri Ranawaka and Divineguma regional director Bandula Tilakasiri on this matter will also be taken up tomorrow by the same bench of judges. The four FR petitions have cited 45 individuals including several ministers, Police Chief N.K. Ilangakoon and the Attorney General as respondents.
The petitioners are also seeking a declaration that all steps taken in consequence of the gazette no.1901/20 of February 13, 2015 in regard to the Financial Crime Investigation Division (FCID) are null and void and has no force or effect in law.
(Lakmal Sooriyagoda)