---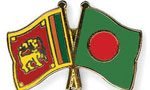 Sri Lanka signed an agreement with Bangladesh on Wednesday in Dhaka to purchase 25,000 metric tonnes of rice from Bangladesh.
Under the provisions of the contract, Sri Lanka agreed to purchase 25,000 metric tonnes of non-fragrant, par boiled, coarse rice from Bangladesh to overcome the rice shortage caused by the drought situation affecting the harvest earlier this year in Sri Lanka.
This will be the first time in the history of Bangladesh that it has decided to export rice to any foreign country, Sri Lankan High Commission in Dhaka said.
Nalin Fernando, the Chairman of Lanka Sathosa Ltd and Mr. Sarwar Khan, the Director General of Food Directorate-Bangladesh signed the agreement on behalf of the two governments.