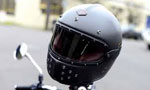 The recently announced ban on full-face helmets due to a series of armed robberies had temporarily been lifted on a directive made by Minister of Public Order John Amaratunga amidst another motorcycle heist reported from Athurugiriya a short while ago.
Minister Amaratunga speaking to the Daily Mirror said a number of requests from the public led to the temporary lift on the ban.
"As a Parliamentarian representing the public we should always listen to their woes and the ban was lifted as a result.
"However, the decision to impose the law will be reconsidered in the future, concerning the on going crime pattern committed wearing full-face helmets," the Minister said.
The Minister had ordered IGP N. K. Illangakoon to lift the ban on full-face helmets, which was to come into effect from March 21.
Police Spokesman SSP Ajith Rohana at a media briefing held last week announced that the full-face helmets would be implemented from March 21 following a series of armed robberies carried out at leading banks and financial institutes.
Meanwhile, a sum of Rs.140, 000 being transported from a financial institute in Athurugirya was robbed at gun point by two motorcyclists this evening, the Police said.
Meanwhile, a bus owner who was about to get married tomorrow in Hikkaduwa was gunned down in broad daylight this morning by two armed men with full-face helmets.
(Kurulu Koojana Kariyakarawana and Sanath Desmond)