---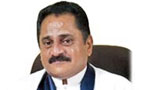 Central Province Governor Tikiri Kobbekaduwa received 34 affidavits from members of the Central Provincial Council, requesting that UPFA member Thilini Bandara Tennakoon be appointed as the Chief Minister of the Province replacing the present Chief Minister Sarath Ekanayake.
Out of the thirty four who presented the affidavits 32 were present when they were handed over to the Governor. The Governor carefully checked whether those who presented the affidavits were present and informed that he would seek advice on this matter and reply them.
In the meantime, Chief Minister Sarath Ekanayake told a news briefing at the Provincial Council at Pallkelle on Thursday that the Governor had no provision to remove the Chief Minister under the present laws of the Provincial Council Act. He has to first ask the present Chief Minister whether he has a majority in the Council. It is after this action that a decision could be taken by the Governor.
It is learnt the Chief Minister has already consulted legal advice and is awaiting the Governor's decision.
(L. B. Senaratne)