---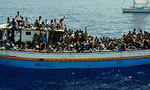 The Australian Coastguard has intercepted a vessel carrying 37 Sri Lankan asylum-seekers in the Indonesian seas and handed them over to the Sri Lankan Navy on Thursday, Police said.
The vessel is reported to have left for Australia on November 1.

Police said among the arrested were 13 Sinhalese, nine Tamils, a Burgher and nine children including a 9-month-old infant.
Police said the asylum seekers were residents of Marawila, Chilaw, Colombo and Jaffna.

Further investigations are being carried out by the Crime Investigation Unit (CID). (Chathuranga Pradeep)