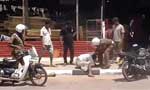 In response to the viral video which showed two traffic Police officers assaulting a disabled motorcyclist, the Police had issued a statement saying that "the officers had used minimum force and that the Police respected the disabled".
The video of the alleged assault went viral in the social media in which two traffic Police officers attached to the
Kahatagasdigiliya
Police assaulting a disabled motorcyclist.
The Police said that the motorcyclist was riding without a helmet, and had continued to ride after the two Police officers had signaled him to stop on Tuesday.
The statement said that the Police officers had intercepted and stopped him.
"When the officers were about to search him, the motorcyclist had removed his prosthetic leg and attempted to avoid from taking him into custody," it said.
"Meanwhile, Police brought him under control by using the minimum force and found the man to be under the influence of alcohol and he didn't posses a valid driving license.
"The Police officers carried out a breathalyzer test to ascertain the extent of the intoxication and released on Police bail and informed to him to be present in court yesterday.
The statement said:
"Actions have been taken by the Police to file a case in Kahatagasdigiliya Magistrate's Court against the suspect on charges of riding a motor cycle, while under influence of liquor, riding without wearing a helmet and not processing a valid driving license and disobeying Police signals.
"The suspect, Jayarathnage Karunarathna is a resident of the Kahatagasdigiliya Police Division, who had been convicted nine occasions earlier at the Kahatagasdigiliya Magistrate's Court.
"It has also been revealed that this person is in practice of terrorizing the residents of the area and was involved in many occasions in disputes with the Police," the statement said.
"Police had used the minimum power entitled under the law when he was taken into custody. Someone who had videoed the incident had released it to the social media.
"However, investigations have begun under the supervision of an ASP under the instruction of the Anuradhapura SSP. After the investigation disciplinary action will be taken if Police officers were found to have used power beyond the limit.
"The Police give due respect and honour to the war heroes and the disabled," the statement said.
(Chaturanga Pradeep)