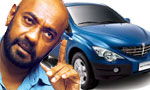 Popular artiste Jackson Anthony today denied allegations that a luxury vehicle without number plates belonging to a government ministry was recovered from his home.
He said at a media briefing that the vehicle found parked by his residence was not gifted to him but only given to him on a temporary basis to be used for his Travel TV show productions in order to promote the company's vehicles.
"I had asked for a vehicle from the Micro Cars (Pvt) Ltd to make it easy for me to travel for the TV show productions. The company acceded to my request and gave me two brand new vehicles for each of the programmes. Otherwise, I would have had to hire a vehicle and that would have cost me a huge amount," he said.
Mr. Anthony said several print media publications had reported that he had received three luxury vehicles from a certain government ministry.
"I have no connection with any ministry," he said.
"However, two Police officers from the Kadawatha police station had come to my house and conducted an inquiry based on information given to the 119 police unit and obtained a statement from my wife.
"I told the Kadawatha police that the vehicle belonged to the Micro Car Company," Mr. Anthony said; adding that the Police had also checked this with the Micro Car Company which confirmed what he had said and that the details could be obtained from the Kadwatha Police.
Police Spokesman Ajith Rohana said police had found that the vehicle belonged to the Micro Car Company and not to any government ministry.
(Chaturanga Pradeep)