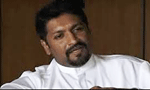 Stating that the government had taken a decision to stop providing army security to individuals, State Defence Minister Ruwan Wijewardane today said that the army was not there to protect Parliamentarians, but to protect the nation.
"Although i am the state minister of defence I have been given the same level of security that is provided to an MP," the minister said.
The State Defence Minister made this comment at a ceremony to open a student's hostel complex at the Sir John Kotelawala Defence University in Ratmalana. The eight storey hostel complex of the Sir John Kothalawala Defence University was constructed according to a concept of the Vice Chancellor of the University, Milinda Peiris.
The State Minister went on to say that the government had taken a decision to stop providing army security to individuals. He was referring to a story which had recently captured the attention of the nation with regards to the security given to former President Mahinda Rajapaksa. "The former President had been provided with adequate security, and while it is so a group of opposition members are charging that the government is not concerned about state security. Refuting all these allegations I would like to reiterate that President Maithripala Sirisena, Prime Minister Ranil Wickremesinghe, myself and the defense secretary would never ever would allow any group or organization to interfere with our national security," he said.
State Defence Minister Wijewardane also charged that the opposition had made much hue and cry saying that restrictions imposed on certain Diaspora organizations had been lifted, but the decision was taken after the report of a commission and discussing matters with the intelligence units.
The detainees were released only subject to strict bail conditions and only through the judiciary process. He also recalled that before the 2010 elections 300 detainees were released without adhering to any of these regulations by the previous government, which he called a political ploy. However now they are released on bail and they have no chance of regrouping in order to do any harm to the unitary state of the country. The intelligence units are closely monitoring their movements, he assured.
(Rekha Tharangani Fonseka)