---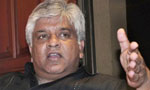 Sri Lanka's world cup winning cricket captain Arjuna Ranatunga who is presently the country's Minister of Ports and Shipping, took a dig at two recently-retired cricket greats Kumar Sangakkara and Mahela Jayawardene at a public ceremony in Nittambuwa yesterday.
Ranatunga alleged that the two former Sri Lanka captains held onto their batting positions in the side for a long period, preventing the opportunity for the youngsters to be groomed, in turn, weakening Sri Lanka's batting.

"Today, the discipline of the players has deteriorated completely. I played as the number four batsman and toward the latter part of my career, I moved down to number seven. That was in order to let other younger players have a chance to establish themselves in a batting position. But in the recent past, Sangakkara played at number three everyday. Mahela Jayawardene played at number four. They didn't allow younger players to consolidate those positions," said Ranatunga.

"But I don't put the main blame on the players. I blame the administrators – former interim committee members. What they wanted was to please certain individual players. To let them enjoy personal profits. As a result, we failed to achieve victories as a team. Because of this, we are going to make it a policy for all players to accept playing for the country as their first priority. Money and positions would only be second and third priorities. First and foremost would be to play for the country," claimed Ranatunga.

Ranatunga also revealed that we might contest the presidency of the SLC at the next election which is expected to be held in November this year. He said his final decision would be announced in two weeks as he is still discussing it with several parties.

"A lot of unwanted things happened in cricket in the recent past. I feel that we have to stop all that and support taking cricket forward. I am closer to the SLC Presidency. I will reveal that later," said Ranatunga.