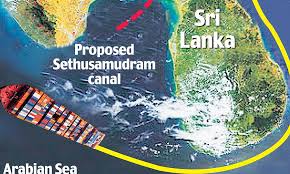 A delegation from Tamil Nadu Chamber of Commerce and Industry met Union Minister of State for Road Transport, Highways and Shipping Pon. Radhakrishnan in New Delhi recently and made a plea for expediting the Sethusamudram Ship Canal Project through an alternative route.
The chamber members said the project which involved widening and deepening of the water canal linking Palk Strait with Gulf of Mannar would facilitate movement of mother vessels and avoid circumnavigation of ships around Sri Lanka, thereby resulting in abundant savings in fuel costs and standing charges associated with extra period of voyages.
N. Jegatheesan, chamber president, and S. Rethinavelu, senior president, met the Union Minister and submitted a memorandum in this regard.
"The Sethusamudram project would help cut voyage by 424 nautical miles and reduce sailing period by 30 hours. It would transform Tuticorin into a leading container port fetching substantial foreign exchange. This would also lead to development of minor ports such as Ennore, Colachel, Cuddalore, Nagapattinam and Machilipatnam," the memorandum said.
A representation was also made to the Centre to ensure early completion of outer harbour project in V.O. Chidambaranar Port in Tuticorin.
Another demand put forth by the chamber was to lay four-lane national highway between Madurai and Coimbatore. "Passenger and goods movement between Coimbatore and Madurai and other southern districts is increasing day by day. Now there is four-lane highway only between Madurai and Dindigul," it was pointed out.
(The Hindu)