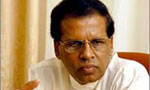 President Maithripala Sirisena today requested that he be allowed to carry out the duties as the Chairman of the Sri Lanka Freedom Party (SLFP).
He made this statement at the special workshop for SLFP electorate and district organisers held at the Sri Lanka Foundation Institute today.
"As I remember, former President Chandrika Bandaranaike handed over the Party to former President Mahinda Rajapaksa and didn't interfere because the party was handed over to carry out duties. Mr. Rajapaksa handed the party over to me so I should be allowed to carry out the duties. I have to make that clear," President Sirisena said.
The President said he said 'Yes' when Mr. Rajapaksa asked whether he accepts the Party but however President Sirisena had said that he needed to appoint a new set of office bearers.
"Democracy has been ensured after I became the President of the Party. People are entitled to express freely now, which is a positive outcome. For the first time in the history, I witnessed the Party President being challenged by the members recently," he said.