---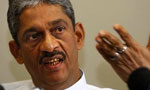 The Attorney General (AG) today requested the Colombo High Court for more time to decide whether to withdraw or continue the case against General Sarath Fonseka on harbouring Army deserters.
General Fonseka had earlier asked the court to dismiss the case filed against him because charges were baseless.
The AG said he would take a decision on this matter after weighing the evidence of a crucial witness, who is an army officer, noticed to appear in Court on March 9.
(LS)