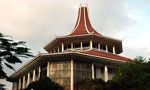 Dinitha Aloka Ranasinghe's parents today assured Colombo Chief Magistrate Gihan Pilapitiya that they would refrain from commenting to the media nor launch any public protest over the abduction of their daughter or the pending habeas corpus inquiry in Court.
This assurance was given by her parents Arambage Gamini Ranasinghe and Indira Rodrigo of Lionel Edirisinghe Mawatha in Colombo 5 sequent to a restraining order issued on them.
The case was taken up for inquiry on a motion filed by parents. Senior Counsel Asoka Weerasuriya and Gamini Perera appearing for the parents said the Magistrate was holding the habeas corpus inquiry on the direction of the High Court to find out whether the girl was being illegally held in custody and to report the findings to the High Court.
The Counsel said it was not the Magistrate's Court but that the District Court was the proper forum for the respondents in the habeas corpus application to express their grievances and obtain any restraining orders.
They said the respondents had obtained the restraining order from Court by misrepresenting facts and as such requested that the restraining order be invalidated.
However, Magistrate Pilapitiya ruled that a Magistrate could issue such orders as it was within his or her authority to act as a District Judge.
The girl's parents filed the habeas corpus application in the High Court and citied as respondents -- Eksath Senaratne, Chatura Senaratne, Dr. Sujatha Senaratne, Dr Rajitha Senaratne, Sarupa Manatunge, Osala Herath, Samantha Kumara, Cinnamon Gardens Police OIC K.A.A. Gamage, the Chairman and OIC of the National Child and Women's Bureau and the IGP.
The Colombo High Court referred the habeas corpus application to be inquired into in the Colombo Magistrate's Court.
(T. Farook Thajudeen)