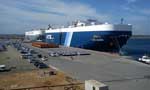 The government in a bid to make the Hambantota Port a viable commercial venture, has decided to develop dockyard facilities at the port at an estimated cost of Rs. 2 billion.
A Chinese Company has responded positively to Ports and Shipping Minister Arjuna Ranatunga's call for expression of interests from potential investors to build dockyard facilities at the Hambantota Port, a ministry source said today.
The minister told Daily Mirror discussions were likely to be held with the Chinese company to work out the terms and conditions for investing in the Hambantota Port Project to make it a profit-making venture with employment opportunities for several thousands.
"The expression of interest for investment in the Hambantota Port Project has been forwarded to Prime Minister Ranil Wickremesinghe by China Harbour Engineering Company Ltd. (CHEC). The expression of interest has been referred to the Sub Committee on Economic Affairs and it has instructed that a total package be formulated for this investment," he said.
The minister has also conducted a several rounds of talks with SLPA officials and CHEC representatives to discuss the CHEC potential and interest to develop, manage and operate a dockyard for ship building and repair at the Hambantota Port.
Meanwhile, Daily Mirror learns that the CHEC has requested the issuance of a letter indicating the Government's interest in granting them an exclusivity period of 12 months to prepare a detailed plan and a feasibility study and sign an MoU between the GOSL and the CHEC.
The minister is reported to have instructed Ministry Secretary L.P. Jayampathy to issue a letter to CHEC expressing the government's willingness to proceed with the project based on Government regulations and procedures.
The first phase of the Hambantota Port was launched on November 18, 2010 with the ceremonial berthing of the naval vessel "Jetliner". The total estimated cost of Phase 1 was US$361 million (approximately Rs.47 billion) out of which 85% was funded by the Exim Bank of China.
The Habantota Port Project came under heavy critisism from the opposition which alleged that the project had failed to provide the expected dividends to the economy and that the entire project was a waste of money.
(Sandun A Jayasekera)