---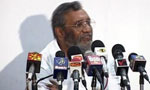 The Elections Commission (EC) together with the International Foundation for Election Systems has decided launch a 7-day island wide social media campaign from August 5 to 12 August called '#YouthVoteSL' with the objective of ensuring voting rights for all youth above 18 years..
This media campaign is being held in collaboration with the International Foundation for Electoral Systems (IFES) to mark the International Youth Day 2016 involving youth civic engagement and to bridge the significant gap which still exists due to the need to strengthen youth voter education and engagement through a systemic manner.
Elections Commission Chief Mahinda Deshapriya told reporters yesterday that the primary objective of this campaign was to encourage all national youth led organizations, networks and societies to engage in creating public awareness through creative and innovative ways about the importance of youth civic engagement.
"In fact on the 23rd of July 2016, Election Commission invited representatives from over 40 youth led organizations ranging from Youth Federation Clubs of Sri Lanka to the Rotaract Clubs, for a briefing about the project and how they can participate and win an award for the best campaign," Mr. Deshapriya said.
Asst. Elections Commissioner Nalaka Ratnayaka said between 250,000 to 300,000 youth have been deprived of their voting rights for various reasons, and the main focus of this campaign will be to give them their right to vote at the forthcoming local government polls.
Upul Sandaruwan of the National Youth Services Council said the participants are at discretion to decide what best will promote youth civic engagement in Sri Lanka and carry on their projects effectively and most creatively.
Mug shots, panel discussions, youth walk, awareness progammes, distributing of materials, short videos, Forum Theater etc will becarried out to create an awareness and the high light will be 'Kites for Rights' a kite display at Galle port.
Naushalya Rajapaksa of the Elections Secretariat said the planned project must be carried out between any day or throughout 5thAugust 2016 to 12th August 2016. The hashtag Youth VoteSL must be used in the description when uploading the pictures or videos on Facebook.The planned projects must be politically neutra1and must not discriminate any political party or ideologies.
There is no restriction in the age or the number of participants.All photos and videos of the respective campaigns must be uploaded before 12.00 mid night on 12th August 2016. (Sandun A Jayasekera)
Video by RM